This week I am featuring five board games/card games and describing how they contribute to your child's math skills. The details listed can be applied to most other games with similar game play. The important thing to remember is to bring out any mathematical concept that arises during play and seize the opportunity to delve into it further!
Monopoly Junior
This is a new game in our home and our 4- and 7-year-old play on their own with no issues. The play is very much like a typical board game.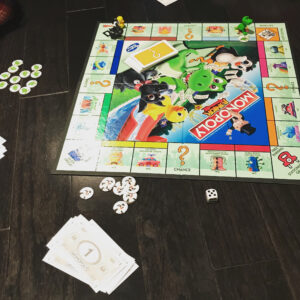 How can you discuss math while playing?
Directions: clockwise or counter-clockwise for turn-taking
Counting: counting dots on the die, counting places on the board as you make your move, counting money or tokens when you need to pay someone or when someone pays you
Addition/Subtraction: in this game, you can Pass Go and then need to pay rent. This is a good opportunity to discuss revenue, expenses, and net profit/loss
Tiny Polka Dot
This game comes with four sets of cards with the numbers 0-9 on each in different orientations. The beauty is the number of different ways to play. The game comes with instructions for many variations of games that range from one to six players and ages 3 to 8 years old. We have fun making up our own ways to play, as well. We really like how a child can easily play on their own for a while, which isn't the case for most games.
Why is it so great?
Number recognition: numbers are shown in numerical form and dot representations in dice, circular, and ten-frame orientations
Number comparisons: lots of ways to play that compare number sizes
Addition/subtraction: make ten pairs in many ways
Blokus
This has quickly become one of our favourite games. It accommodates 2 to 4 players and our 4- and 7-year-old play with ease without assistance and adults love to play just as much. The objective is to place as many pieces on the board as possible, only touching your own colour corner-to-corner.
Where is the math?
Spatial recognition: seeing where each piece can or cannot fit into the space left on the board
Shapes: each piece is a polygon or a compound figure made up of other polygons
Counting: how many squares are in each piece? The winner has the fewest number of squares left when there are no more moves
Strategy: foresight and strategic game play are a must to beat your opponent, especially when there are more than two players
Uno
This game is loved by all and a childhood favourite for me! Our kids are playing on their own all the time and they navigate it with no issues.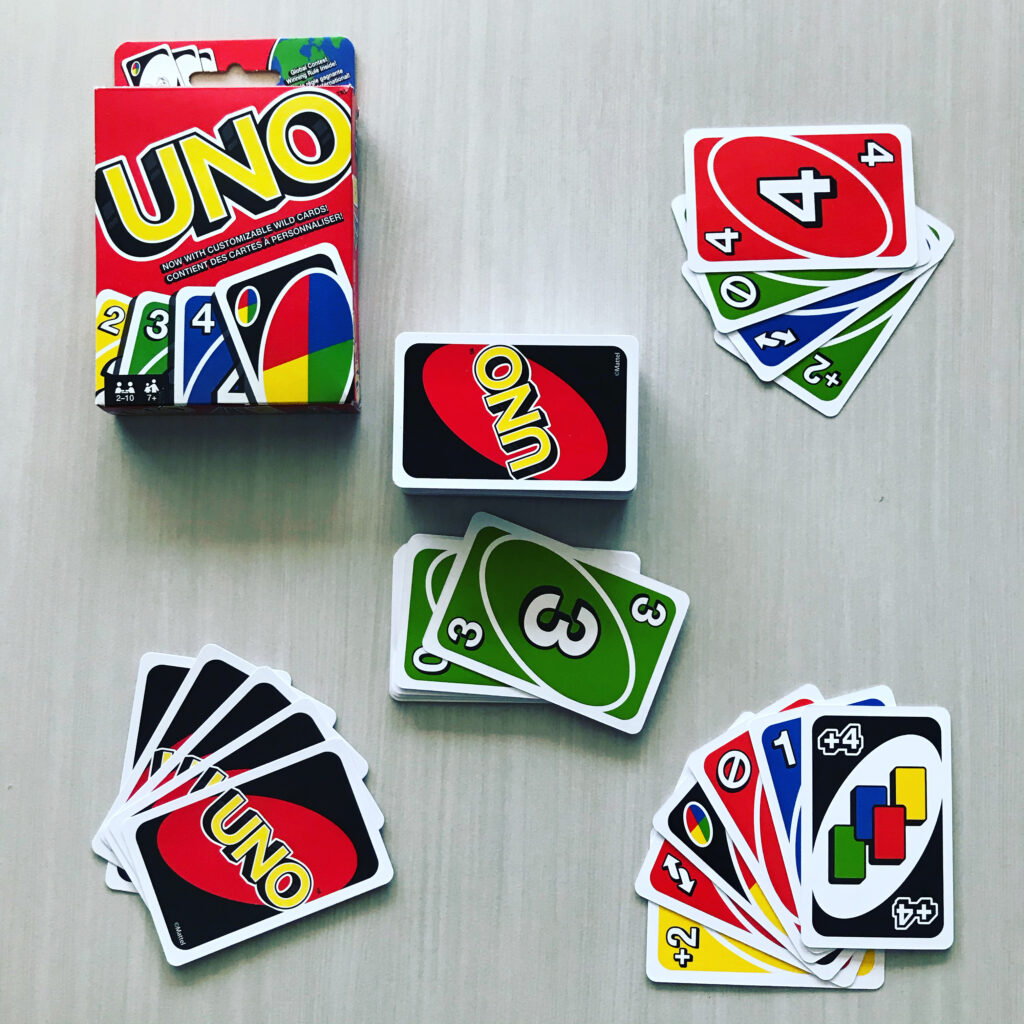 How do we talk about math?
Number recognition: you must match corresponding numbers, so this is great for building basic number recognition
Counting: each player starts with 7 cards, there are playing cards to pick up 2 more and 4 more cards, and if you combine them, you might have to pick up even more!
Playing direction: one playing card changes the direction of the game play – good opportunity to discuss clockwise and counter-clockwise direction
Line Up 4
This two-player game requires you to be the first to get four circle pieces in a row. The objective is a little different than most other board games and has an easy-entry point for young players.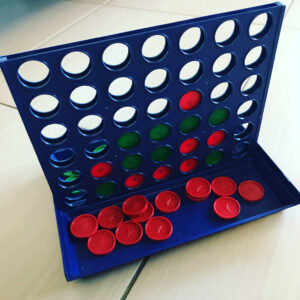 What about the math?
Lines: discuss horizontal, vertical, and horizontal line directions as possibilities for winning
Counting: How many pieces do you have in a row so far? How many more do you need to get four?
Strategy: how can you work on lining up your own pieces while blocking your opponent from getting four in a row at the same time? Balancing offensive and defensive play is a big problem solving strategy
Board games provide several opportunities for math conversations while you play! Remember that math is everywhere!
Keep spreading the math love <3